Vues : 199
3rd international organ masterclass
from July 10th to 12th 2023 - with Karol Mossakowski
Third edition - From July 10th to 12th 2023
with Karol Mossakowski
Presentation
This course is aimed at organists with a good level.
▪ Welcome reception at the concert of Jean-Philippe Merckaert as part of Collegiades 2023 – our annual organ festival (31th edition).
This concert will take place on Sunday, July 9th 2023 at 6 p.m. It will be followed by a cocktail offered to the students.
The dinner can be arranged but is not included.
Please let us know if you'd like to attend the welcome dinner when registering.
▪ The Masterclasses will all take place in the Collegiale Sainte Waudru from Monday, July 10th until Wednesday, July 12th between 9 am and 4.30 pm.
▪ The instruments will be made available in the city center.
▪ A concert will conclude the Masterclasses on July 12th at 6.30 pm in the Collegiale.
Each student will have the opportunity to attend two individual classes (45 minutes) with the professor. The students are encouraged to attend their colleague's sessions as well.
 The Teacher: Karol Mossakowski
Karol Mossakowski is renowned for both his interpretation and improvisation skills. He was awarded First Prize of the International Prague Spring Competition and the Grand Prix de Chartres, and leads an international career in both areas of practice as they mutually enrich one another. He is Artist in Residence at NOSPR Katowice, and held the same position at Radio France from 2019 to 2022.
Recent and upcoming highlights include concerts in venues such as Radio France, Philharmonie de Paris, MÜPA Budapest, Wroclaw's National Forum of Music, Lyon's Auditorium, Warsaw Philharmonie, Moscow Philharmonie, Mariinsky Theatre in Saint Petersburg, Madrid's National Music Auditorium, BOZAR Brussels, Palais Montcalm in Quebec, Bamberg's Konzerthalle, Dresden Philharmonie, Berlin, Cologne, Vienna, Milan cathedrals , as well as with orchestras as the Orchestre Philharmonique de Radio France, Orchestre National de France, NFM Wroclaw Philharmonic Orchestra, National Polish Radio Symphony Orchestra, Warsaw Philharmonic Orchestra, or the Odense Symphony Orchestra, under conductors like Myung-Whun Chung, Kent Nagano, Mikko Franck, Fabien Gabel, Giancarlo Guerrero, Cristian Măcelaru and Lawrence Foster.
Karol Mossakowski seeks to keep music alive thanks to improvisation, to which he gives an important role in his recitals and develops in silent film accompaniment. In 2017, his accompaniment of Dreyer's Jeanne d'Arc for Lyon's Festival Lumière was released in DVD on Gaumont. In 2021 he releases his first solo album Rivages featuring works from Bach, Mozart, Mendelssohn, and Liszt connected by improvisations, on Tempéraments, Radio France's label.
As a composer, he is in residence at the Festival de musique sacrée de Saint-Malo, for which he composed "Les Voiles de la Lumière" oratorio for three organs and mixed choir premiered in 2021, as well as "Trois Versets" for three organs, premiered in 2022.
In 2014/15 Karol was appointed Young Artist in Residence at Cathedral of St. Louis King of France in New Orleans (USA).
Karol Mossakowski started the piano and the organ at three years old with his father. After musical studies in Poland with Elżbieta Karolak and Jarosław Tarnawski, he entered the organ, improvisation, and composition classes at the Paris Conservatory as a student of Olivier Latry, Michel Bouvard, Thierry Escaich, Philippe Lefebvre.
He is titular organist of Lille's Cathedral, and professor of improvisation at the Higher School of Music in San Sebastián (Musikene).
More information HERE.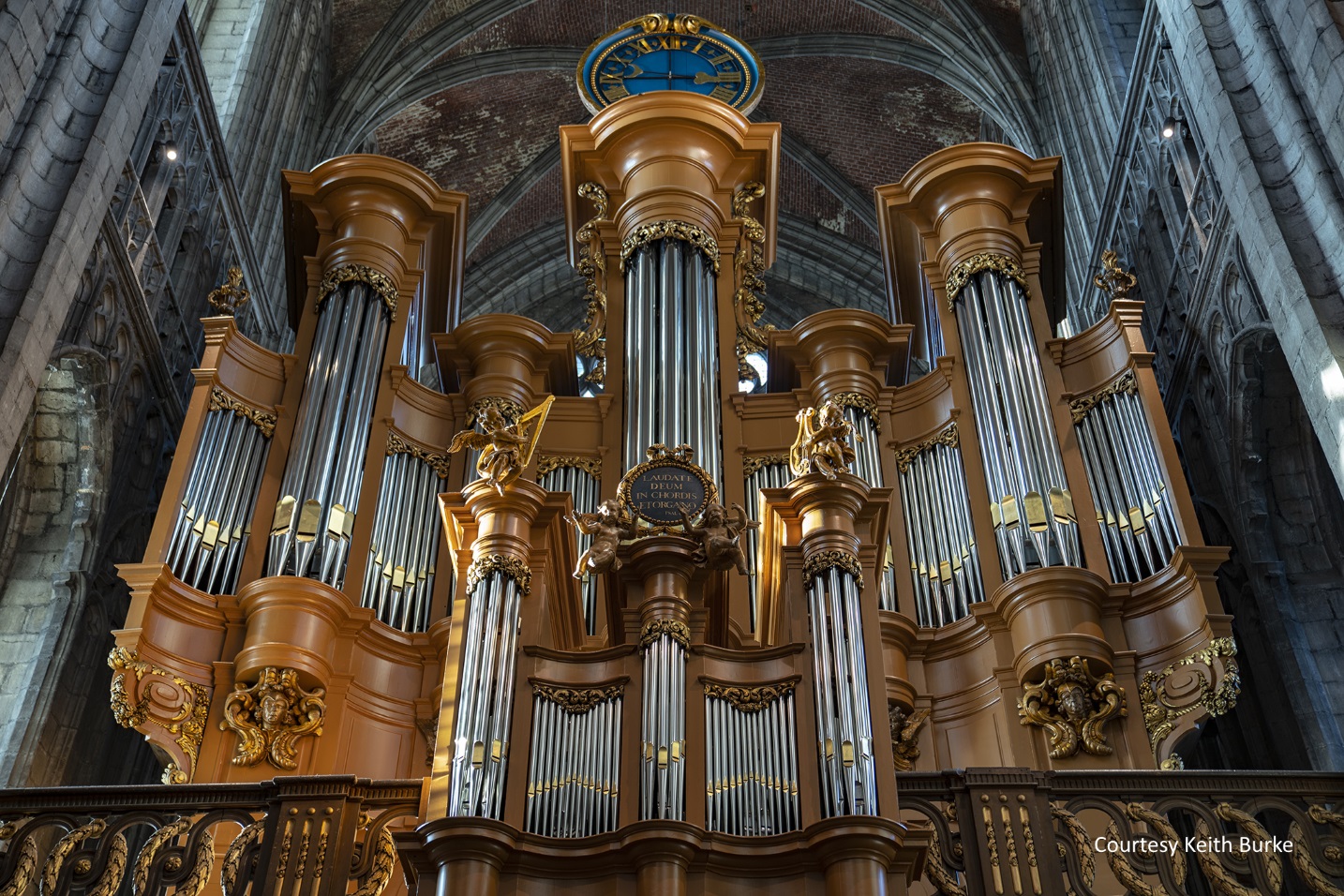 A masterful restoration of our organ